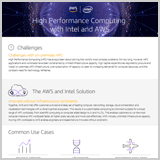 AWS and Intel allow your engineers and scientists to innovate and accelerate results on virtually unlimited cloud resources without the cost of procuring, deploying, and managing HPC infrastructure. With a flexible, scalable platform, global availability, and a large catalog of cloud-optimized software libraries, AWS and Intel help your team collaborate securely so they can unleash their creativity and productivity.
By moving HPC workloads to AWS, you'll enjoy the flexibility of pay-as-you-go pricing options, procuring only the capacity you need for the duration that it's needed, so your IT solution parallels both the compute demands of your team and the financial team's budget.
Get the brief which provides use cases in genomics, life sciences, energy and engineering. Download now.