Written by Intersect360 Research, sponsored by Bright Computing
Matching diversifying technologies to diversifying workloads is the greatest challenge facing the HPC industry. There is an increasing need for a professional, supported cluster management tool that spans these dimensions of the new HPC. That's where Bright Computing comes in. In this white paper, Intersect360 Research highlights Bright Computing's system management software spanning HPC, analytics, and AI, and how Bright Computing is filling a necessary role in high-performance segments. Bright Cluster Manager sits across an organization's HPC resources—whether on-premise, in the cloud, or at the edge—and organizes them across workloads.
Bright Computing helps address the big question in HPC: how to match diverse resources to diverse workloads in a way that is both efficient today and future-proof for tomorrow.
Download the white paper now to learn more about how Bright Computing is managing multiple paths to innovation.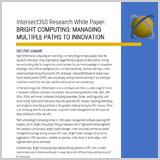 Fill out the form on the right to access this white paper.