Download this datasheet describing the VectorPath PCIe accelerator card developed by Achronix and BittWare. You will learn about the features, benefits and applications for the VectorPath accelerator card powered by Achronix's Speedster7t FPGA devices.
This board includes 400G Ethernet, 4Tbps GDDR6 memory bandwidth, PCIe Gen3 interfaces along with a full software development kit including FPGA design tools and board management controller for rapid board bring up and development.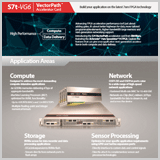 Fill out the form on the right to access this datasheet.